AND
Russia
Today
TV
George
Galloway
show
2015
Dec 12
AND Climate Challenge Conference (Alternative to UNIPCC)
PARIS 2015
Dec 1-3
WeatherAction Long-Range forecasts are world leaders
They
give possible likely weather scenarios (+/-1d) in typically 8 time periods per month for Britain+Ireland, Europe, USA regions.
They are
NOT
substitutes for short range detail
but provide a likely scenario for LongRange decisions and choices

and are normally more accurate and applicable than standard meteorology on all time scales from months ahead to 5days ahead. WeatherAction are the only LongRange forecasts with proven peer-review published significant skill.
In addition to LongRange detail typically within 1 or 2 days resolution

WeatherAction Solar factors - R5, R4, R3...

( in all forecasts) give advice which point to impro
verments of short range model forecasts.
Comments
and news in forecasts and here and in blogs linked below deal with both LongRange Forecasts and medium-short Weather and geophysical effects - eg aurora - of solar factors in Br+Ir, Europe, USA and across the world.
Follow

@Piers_Corbyn

on twitter for very latest news and comment.
Note Piers' tweets/retweets of standard model output at times may not imply agreement but is more information since models change so much in this Wild-Jet-Stream / Mini-Ice-Age era.
ALL PAST FORECASTS are available

in the web access boxes for current forecasts and in the Forecast archive (Via Forecasts tab) as it updates.
Forecasts are normally for each MONTH and in (up to) 8 sub periods Br+Ir, Europe inc Scandanavia and USA.
In forecast access & notes BI, B+I, BrIr, Br+Ir = Britain+Ireland; Eu = Europe inc Scand.
30d forecast means current/next month up to ~30d ahead and is issued at ~end of previous month.
45d forecast means ~15d to 45d ahead and is issued mid of previous month; etc for 75d.
Forecasts issued can include re-issue of copies of previous without update and appropriately labelled [even if no changes have been (yet) made] - so subscribers know they have not missed a forecast (update). BI 100d, 90d, 75d, 45d and 30d can be the same but there normally will be extra detail and/or (sometimes) changes at any stage or extra stages espec for 45d & 30d
issues.
The basics of any forecast normally stay unchanged from ~6m ahead to 30d fullest detail in ~85% of cases.
See also twitter:
@Piers_Corbyn
Latest Red Weather
/ Solar Factors*
dates +/-1d (+/-2d for #Quake trials)
-

R5 (strongest), R4, R3...
for extra Extreme events, storms, hail, Tropical storm formation, thunder, tornadoes..
28 June
Comment on June from Piers:
In relative terms early June mostly fine then mid to mid-late very wet then finer end; has been mostly confirmed but the later finer bit (eg like amazing 24th) has been more showery than expected. This has been a problem for some farmers and others.
We are investigting to see if there are likely changes to the rest of the summer and will soon upload any updates.
(info posted 25June): June 23-25th R4
- strong thunderstorms and tornado events all over world although for Br+Ir largely blocked out by High pressure.
The 23rd
itself will be warm and mainly dry and often sunny across te UK with thunder in eg SE England at times - rather than drier as in our 70d ahead forecast. It may well be that the thunder will be more intense than 1d ahead TV forecasts (due to
R4
solar factor) but held more into France due to extra pressure contrasts (from
R4
).
JUNE 1 - 2 - 3 - 4 - 5 -
6 D-Day
- ..... - 19 - 20 - 21 - 22 -

23 Independence Day....
Crazy Jet Stream & contrasts continue ALL Summer and into SEPTEMBER. Br+Ir, Europe and USA!
Anyone serious about weather needs to get early warnings with
Br+Ir WHOLE SUMMER
NOW
(June +) July + August -
current Euro maps + all updates through whole summer.
Existing subs get free extensions for duration of overlaps
Cl

ick
here to
get
prices, buy forecasts and donate to WeatherAction Research
Forecasts downloadable via HomePage => Subscribers: Username(Email)+password
What Summer is developing?
Piers Corbyn astrophysicist of WeatherAction.com June 2nd said: "It's great how many have been getting our forecasts for this summer in Britain+Ireland, USA (key points) and Europe (grain regions). Our forecasts give a good idea of the
all important detailed developments
throgh the whole summer.
There's ben a lot of media hype about this summer and part-quotes of general things we have said but which may have got mixed up with others at times.
The main thing we say about this summer in UK and Eire, Europe and USA is that due to the solar-driven wild JetStream situation we are in there will be dramatic switches between hot or very hot spells at times and much cooler wet weather with intense thunderstorms, hail and tornadoes in places.
For Britain and Ireland for June as a whole there will be some Fab parts and some very opposite parts and
our forecasts spell out the TIMING detail
. That contrasty theme continues throgh all summer.
Full 30d Ground-Breaking Forecasts
to September
for
Farmers & Grain Traders.
The forecasts Piers Corbyn gave to Cereals 2016 Conference Geneva April 8th (
President Wilson Hotel) and all later updates.
A must for anyone serious about cereals & grains
Click above
and/or contact WeatherAction Office / mobile -
Whole
USA
KEY Forecasts to end Sept
updated with conference notes + latest USA Full detailed forecasts
& more as season develops.
Euro Grain Areas
to end Sept - Black Sea/Ukraine, West Russia, Germany -
updated with conference notes and Full detailed Euro Forecasts
& more as season develops
.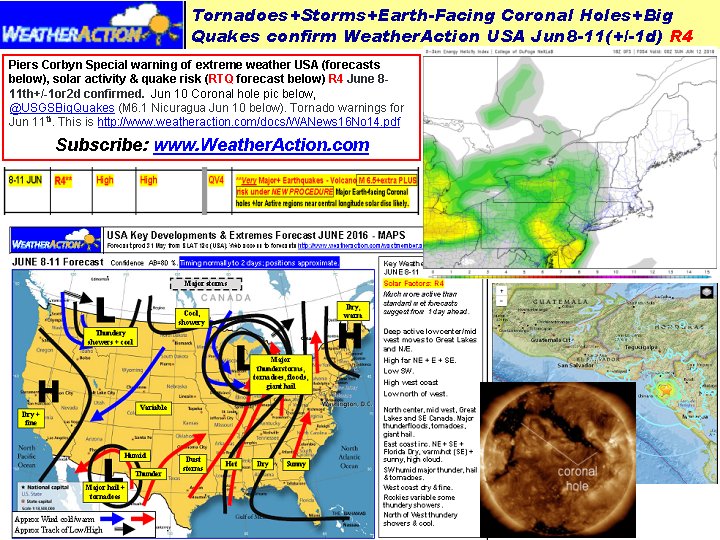 31 May
Brilliant success
for WeatherAction Special
"R4" (Red4)
weather extreme events and increased Quake Risk (trial) warning 26-29 May
-
Very
extreme storms, lightning, deluges, extra Earthquakes
& Huge Earth-facing coronal hole! S
ee also further reports:
@Piers_Corbyn
twitter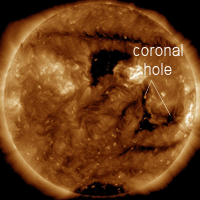 Earth facing Coronal
hole 26May solar wind Earth 26-27May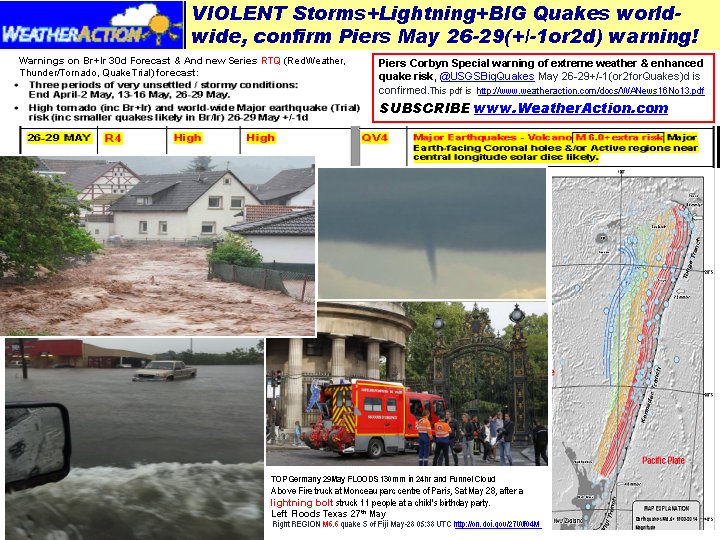 Mid May Quake+Weird weather check
R4
May
13
-16+/-2d (Quakes M6.5+ warned
by WeatherAction)
https://twitter.com/USGSBigQuakes
CONFIRMS there was an upsrge in 'BigQuakes (

M5.5+

) in period 11-18th and particularly

on 18th TWO quakes M6.5+ (M6.8, M6.7 in Ecuador)
There was also an increase in
very extreme weather events
- eg astounding deluges in SriLanka which led too land/mud slides.

Climate Change Charlatans Watch
Prof Sir Brian Hoskins et al have
FAILED SINCE 16 May
to
provide OBSERVATIONAL REAL-WORLD EVIDENCE
that CO2 changes drive changes in Climate.
If politicians FAIL to provide evidence of fundamental assumptions they normally get removed from office. WHY SHOULD WE ACCEPT LOWER STANDARDS OF EVIDENCE FROM SCIENTISTS THAN POLITICIANS?
See below for Piers Corbyn's challenge issued at Imperial College 16May
The craven agents of BigOil - Aljazeera (owned by BigOil state Qatar) and BBC have launched a

TOTAL LIE campaign

that (ManMade) Climate Change (warming) is killing

coral reefs

(at record rates - of course) due to "hot" (LOL) water.
FACTS: (i) The NATURAL process of ElNino caused that 'hot' water they mention.
(ii) The idea that it is 'record hot' depends on a) selecting a place where it is warmer than it might have been in the past under SHORT records, b) data fraud - all 'average' temperatures now are bumped up by about 0.5C (see bottom of this blog page); c) Actual world temperatures are declining (see bottom of this blog page) so this local warming of whatever size is NOT part of a general warming. Tbe REAL WORLD is cooling.
(iii) In the present wild Jet Stream (aka MiniIceAge in winters) conditions air and sea current swings and temperature swings (eg ElNino) tend to be bigger than normal and there are not records of coral reef Sea temps going back to the last WildJetStream/MiniIce Age (Dalton Minima of early 1800s). These wild swings due to the wild Jet Stream are direct evidence SUPPORTING the solar-lunar theory and a DIRECT NEGATION of the CO2 story - see Item 4 in page Intro above
Tue 17 May
Piers Corbyn challenges Top Meteorology professor to provide observational evidence of so-called man-made 'climate change'.
On Mon 16th May at the annual Imperial College Lighthill Lecture* - this year by

Professor Sir Brian Hoskins

on 'Predicting Weather and Climate' - WeatherAction astrophysicist Piers Corbyn, First class Physics graduate from Imperial College, challenged Sir Brian to produce observational evidence of CO2 driving changes in Climate
*
http
://
www
.imperial.ac.uk/fluids-cdt/about/lighthill-lectures/
In the discussion section of the event Piers thanked Sir Brian for his superb presentation on meteorology concepts and processes and said that however he had difficulty with his comments on Carbon dioxide and climate. Piers said
"The problem you have is that there is no observational evidence that world temperatures follow CO2 levels but the relationship is the other way. The trace gas CO2 follows temperatures with delays of some centuries because the relative partition between CO2 in the air and in the sea - which holds 50 times more CO2 than the atmosphere - is controlled by Sea (surface) temperatures (under Henry's Law) and
I challenge you to provide evidence of your claims
"
Sir Brian said there was evidence in the UN IPCC reports.
Piers said "No, there is no evidence in those reports only opinion. We must rely on evidence not opinion". Sir Brian said he agreed evidence not opinion was required. Piers said Yes we need to see a graph of observational evidence please send evidence to
piers@WeatherAction.com
"
Afterwards Piers gave his business card with email to Sir Brian.
Further Comment from Pierst:

We will keep WeatherAction site updated on any responses.
Sir Brian's CO2 and Climate claims did not follow in any way from the main part of his presentation on world weather description parameters and meteorological concepts and processes.
His claims that Man's CO2 lasts thousands of years and that this is causing Ocean acidification are factually false (but we didnt have time to discuss these). For a start IF Man's CO2 lasts thousands of years in the atmosphere it cannot also be in the sea causing so-called 'acidification'. The fact is that because the sea holds 50 times more CO2 than the atmosphere even if all atmpsheric CO2 went into the sea - let alone man's 4% contribution to it - which anyway it cannot because of Henry's partition Law, it could potentially have only a trivial effect which is further suppressed by the 'buffer solution' nature of the sea.
There is a dynamic balance between CO2 in the sea and air and on average half any atmosperic CO2 will enter the sea in a few years and CO2 is similarly releaased from the sea at close to the same rate.
WANews16No12 (PCCC1) ClaimsThat2015WasWarmestverAreDataFraud
<=CLICK for pdf below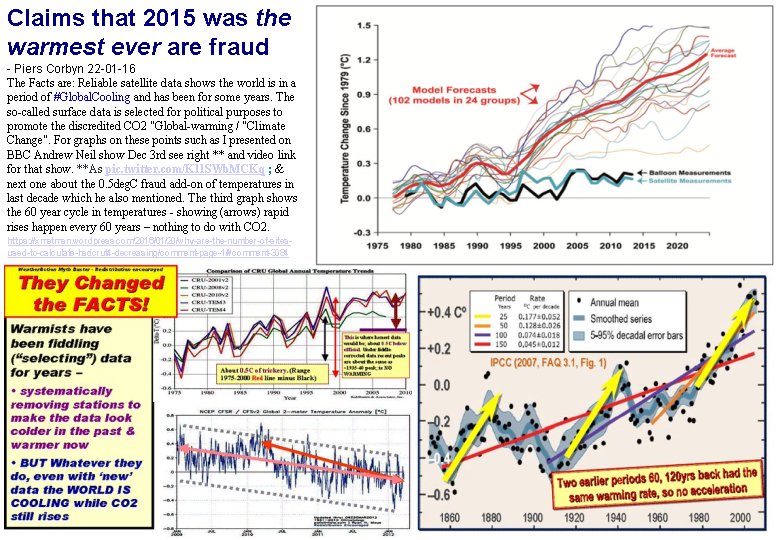 FOR LATEST NEWS AND READER COMMENTS CLICK BLOG LINK BELOW